John Ashton, ambassador and lung cancer survivor achieves his goal of a sub 60 10k run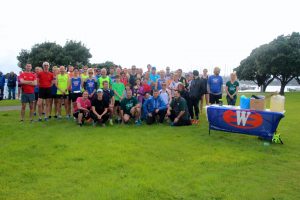 Congratulations to our lung cancer patient ambassador Dr John Ashton for achieving his goal of completing the Honest 10 K run in under 60 minutes – in record time of 54.28! We are also grateful for his tremendous advocacy and fundraising support.
The Honest 10 is one of many runs organised by the Wellington Harrier Athletic Club and we are grateful of their support of John's participation and their leadership with lung health promotion.
Sincere thanks to MPs, Annette King MP for Rongotai, Member of the Health Select Committee and Hon Peter Dunne, Associate Minister of Health for attending in support to acknowledge Johns achievement and the Wellington Harrier Athletic Club.